Of All the Bathroom Contractors in Redington Shores, FL, Mueller Remodeling Offers Superior Design/Build Services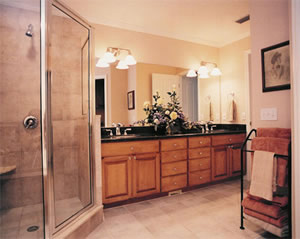 Compared to the other bathroom contractors in Redington Shores, FL, Mueller Remodeling offers exceptional creativity and craftsmanship in our projects. We pride ourselves on our ability to create a custom design for your bathroom and then make that design a reality. Some other contractors will remodel your bathroom based only on designs drawn up by a third party. At Mueller Remodeling, we'll design custom plans for your bathroom ourselves based on in-depth discussions we'll have with you about your unique needs and tastes.
No other bathroom contractors can compete with the expertise at Mueller Remodeling. We have two state-licensed, NARI-certified contractors on staff, and together they have more than fifty years of construction experience. No matter what products or fixtures you would like us to incorporate into the design of your bathroom, we can provide you with knowledgeable advice as to which ones will look and function best in your home. Then, when it comes time to install them, we'll do so with the greatest care.
Unlike other less-experienced bathroom contractors, we can provide expert installation of any of the following products or fixtures in your Redington Shores, FL, home:
Custom cabinetry

Flooring

Tiling

Lighting

Tubs

Sinks

Showerheads

Windows

And more
Whether you want to completely revamp your bathroom, or you have a smaller-scale remodel in mind, Mueller Remodeling can make any vision you have a reality. To learn more about what separates us from other bathroom contractors in Redington Shores, Florida, contact us today.