Award-Winning Bathroom Remodelers Serving Largo, FL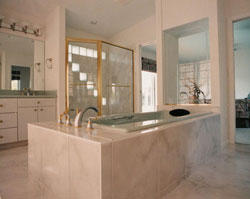 At Mueller, our bathroom remodelers possess the skills and knowledge necessary to successfully complete any project, no matter how basic or sophisticated. One look at our craftsmanship is usually all it takes to know that Mueller Remodeling, Inc. is one of best around in the field of bathroom remodeling. For decades, our team of bathroom remodelers has served Largo and other communities throughout Pinellas County, Florida, continually strengthening our reputation as a company that provides an unparalleled level of service. Whether you want to make a couple of basic upgrades to a bathroom in your home or do a complete "spa" makeover, you can put your full trust in the Mueller team. We are reliable, responsive, creative, and never hesitant to exceed the expectations of a customer.

Mueller has been honored to win many prestigious awards in recognition of our expertise as bathroom remodelers, including:
NARI Regional Contractor of the Year Award 2008, 2009 – Residential Bath Over $60,000
Remodeler of the Year, NARI Tampa Bay Chapter, 1998, 2009
2008 NARI Hall of Fame Inductee
And many more
Mueller Remodeling, Inc. is a family-owned and -operated bathroom contractor that is especially committed to achieving every customer's aesthetic and practical goals. Even if your budget is tight, we will be able to draw upon our many decades of experience as bathroom remodelers to maximize your satisfaction. We have been a trusted bathroom remodeling contractor serving Largo and other nearby communities for more than 30 years.

To learn more, contact Mueller Remodeling, Inc. today. We also do kitchen remodeling, outdoor patio remodeling, outdoor kitchen installation, interior and exterior home renovations, and more.