Bathroom Remodeling Contractor Serving Largo, FL, and Other Areas in Pinellas County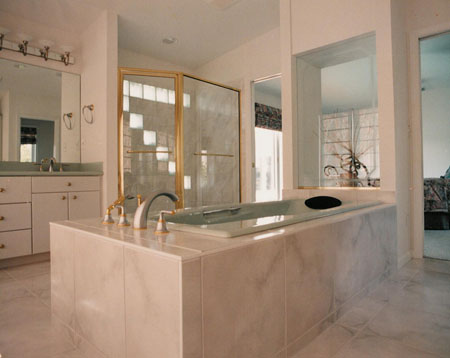 A successful bathroom remodeling project will help make your bathroom more comfortable and attractive. But for your project to be a success, you'll need a skilled remodeler, and choosing among the many contractors in Largo, FL, can be a stressful experience. When you want to know for sure your bathroom will be remodeled with the highest level of craftsmanship, and that the results will meet your exact needs, call Mueller Remodeling, a family-owned design/build firm with a longstanding presence in Largo, FL, and other cities in Pinellas County.
Mueller has every quality you want in a remodeler, starting with our wide-ranging expertise. Unlike most other bathroom remodeling firms, Mueller has two state-licensed contractors on staff – a father-and-son team, in fact – who together have more than fifty years of combined building experience.
But what really distinguishes Mueller from other remodelers is one quality that can't be taught, and that's creativity. Other remodelers may be able to follow generic bathroom designs and make your bathroom look better than it did before. But the end result of their work won't enrich your life like a bathroom remodeled by Mueller.
When you hire Mueller, we'll take the time to understand your unique tastes, and then we'll draw up custom plans for your bathroom ourselves. We'll creatively incorporate any product or fixture you want your bathroom remodeling project to entail, including:
Sinks
Cabinetry
Tiling
Lighting
Flooring
Paint
Showerheads
Windows
And so much more
In all respects, Mueller Remodeling has what you want in a bathroom remodeling contractor: experience, creativity, and skills. With us, you won't need to settle for anything less than the bathroom of your dreams.
To learn more about our bathroom remodeling services offered in Largo, Florida, and throughout Pinellas County, contact us today.