Custom Kitchen Specialists Serving Belleair Beach, FL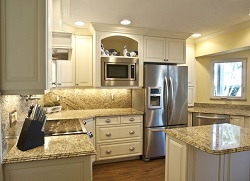 There's good reason why the kitchen is considered the heart of the home. In addition to being the place where you prepare meals, it's a space where people naturally tend to congregate during get-togethers and special events. As much as any other room in your home, your kitchen should be a space that accommodates your unique lifestyle. When you work with Mueller Remodeling, you'll be able reshape the look and feel of the room to create the perfect custom kitchen for your Belleair Beach home.
Why Choose Mueller Remodeling?
At Mueller Remodeling, we have extensive expertise with all aspects of kitchen remodeling. As we work to create your custom kitchen, you can expect to benefit from our:
Dedicated Design Assistance
We'll explore your ideas for the project and walk you through the many different design features and products you can choose to incorporate into the space. Whether you already have a clear idea of what you want in your new kitchen or you would like us to lead the way in recommending changes, we'll provide any assistance required to plan a design that you truly love.
Careful Budgeting
We can do a complete overhaul of your kitchen or just make targeted improvements to the aspects of the space that need it the most. The choice is entirely up to you. And, no matter the scale of your remodel, we'll be mindful of your intended budget every step of the way and carefully plan the renovation so that it delivers the biggest bang for your buck.
Efficient Project Management
A state-licensed general contractor who is an owner of Mueller Remodeling will be onsite every day overseeing your custom kitchen renovation to help ensure that it stays on schedule and within budget, and that all aspects of the work meet our distinctly high standards.
Contact Mueller Remodeling today to begin planning your custom kitchen in Belleair Beach, FL.