The Home Remodelers to Trust with Your Renovation Project in St. Petersburg, FL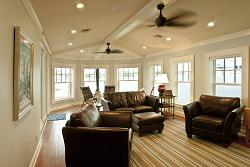 When planning an upgrade to your home, it can be difficult to decide which remodeling company to hire. There are many home remodelers to choose from, and they all probably say that they do excellent work. At Mueller Remodeling, we believe that our results speak for themselves in showing St. Petersburg homeowners the care and precision we apply to every project we undertake. From our A+ rating with the Better Business Bureau to the many awards we've received over the years (including being named Contractor of the Year by the Tampa Bay chapter of the National Association of the Remodeling Industry), Mueller Remodeling stands out from other home remodelers as being the company to trust when you want to make your dream home renovation a reality.
In Mueller Remodeling, you'll have a team of experienced home remodelers who are capable of completing virtually any residential renovation you can imagine. For instance, we can:
Make your kitchen a more enjoyable place to prepare meals by adding new cabinetry, a kitchen island, stainless steel appliances, and improved lighting
Create a luxurious bathing environment in your bathroom by installing a stylish walk-in shower or a spa-like whirlpool tub
Expand the living space of your St. Petersburg, Florida, home with a new bedroom, bathroom, office, or garage
Bring your dreams of relaxing outdoor living to life with an attractive and highly functional new outdoor kitchen
If you're searching for home remodelers who you can know for sure will deliver outstanding results, then your search can end with Mueller Remodeling. Contact us today for more information about the custom remodeling services we offer for homeowners in St. Petersburg, FL.