You've Found the Premier Kitchen Remodeling Contractor Serving Largo, FL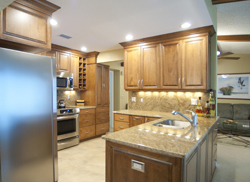 Selecting a kitchen remodeling contractor is the most important step in upgrading the kitchen in your Largo, Florida, home. You'll want to partner with a company that has the skills, dedication, and creativity needed to create a space that looks and functions exactly the way you want.
As countless local homeowners can attest, you can trust Mueller Remodeling to carry out a kitchen renovation that exceeds even your highest expectations. We specialize in converting existing spaces into ones that perfectly accommodate the lives of the people who spend time in them, and we're confident that we can do the same for your home.
We're Award-Winning Design/Build Kitchen Remodelers
Unlike kitchen remodeling contractors who mostly create "cookie cutter" kitchens that you could see in many different homes, we're a design/build company known for our personal touch. We've won numerous awards through the years, including being named NARI Tampa Bay's Contractor of the Year, in large part because of our creative approach to home remodeling.
Do you already have specific ideas in mind for your kitchen? Great! We'll walk you through the ways that we can make your vision a reality. Or are you not sure how you would like to upgrade your space? That's not a problem! Drawing upon our decades of experience as a kitchen remodeling contractor, we'll ask you a variety of questions about your design preferences and the ways you intend to use the space so that we can recommend changes that will fit your needs like a glove.
Let's Start Planning Your Kitchen Remodel
If you're searching for a kitchen remodeling contractor that will improve your home to a degree that truly improves your quality of life, your search can end here. Contact Mueller Remodeling today to learn more about the services we offer in Largo, FL.