Award-Winning Kitchen Remodeling Contractor Serving St. Petersburg, FL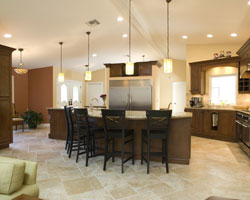 You may assume that the only way to have a kitchen that's entirely personalized for your needs would be to have your home custom built. However, that's not the case when you partner with Mueller Remodeling.

We're a design/build kitchen remodeling contractor that specializes in transforming cookie-cutter homes into fulfilling living spaces for homeowners in St. Petersburg, Florida. When we work with you to plan your kitchen renovation, we won't simply ask you what products and colors you want to include. Instead, we'll start with more fundamental questions, to understand the various ways that you plan to use your space. Whether you envision your kids doing homework at a nearby breakfast nook, you prepping meals on a spacious kitchen island, or your friends gathering for a special occasion, we'll draw upon our decades of experience to create a kitchen that helps you live the life you want.
Your Kitchen Renovation Is in Good Hands With Us
Since our founding in 1990, Mueller Remodeling has transformed countless kitchens in St. Petersburg, FL. In that time, our dedication to excellence has earned us notable recognition.

In addition to receiving overwhelmingly positive reviews, we've earned numerous accolades such as being named Contractor of the Year by the Tampa Bay chapter of the National Association of the Remodeling Industry (NARI). These distinctions tell you that we're a kitchen remodeling contractor that will handle your project with the care it deserves.
For More Information
Do you want to partner with a kitchen remodeling contractor that cares as much as you do about creating the home of your dreams? Then don't settle for anyone other than Mueller Remodeling. Contact us today to schedule your free consultation in St. Petersburg, FL.